In-the-Box Questions, Out-of-the-Box Conversation
I wish I'd designed this!  
     
Have you ever been at a loss of what to talk about? You're not feeling creative. You can't think of anything to say. You lack inspiration. What do you do? Stare at the wall. Sit in silence. Worse, talk about the weather. Or do you delve into a box?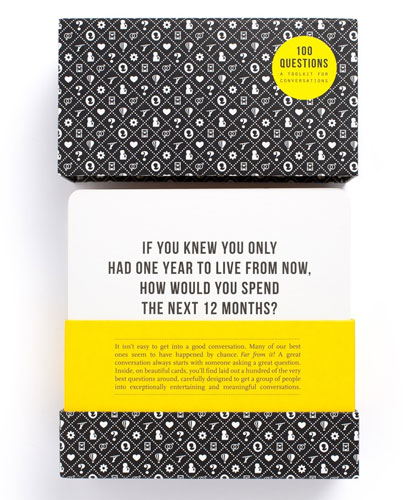 100 Questions - A Toolkit for Conversations
http://www.theschooloflife.com/shop/100questions/

100 questions - an ingenious simple idea that's been cleverly designed to get us all pulled into conversation. 100 cards packed in a square cardboard box.  Family. Friendship. Career. Emotion.  Questions to get us talking.  Answers to get us thinking. What are the best features of middle age?  What makes a person a good travelling companion? Is there life after death?

It's fun. It's entertaining. It's a conversation starter.