Inspiring People to Come Together
In the search of ways of bringing people together, we often look for something new, different or exotic. Why? The community instinct is universal and innate to us all; a get-together starts with an idea, so a simple invitation is enough, isn't it? But what if you want to invest in something really special, unique or alternative?  Is a simple invitation still enough to inspire the right people to come together?
I Wish This Was…
While speaking at a conference in Las Vegas, I had the pleasure to meet the kind of person I was least expecting to find in Sin City – an artist, an angel, a person who understands the power of a simple invitation: Candy Chang. While her art has been exalted from TED to the Venice Biennale, her concepts are extremely accessible and in-touch with the everyday-man's experience. She invites communities to come together, and conversations to happen, and it all starts with a simple invitation.
A Collective Celebration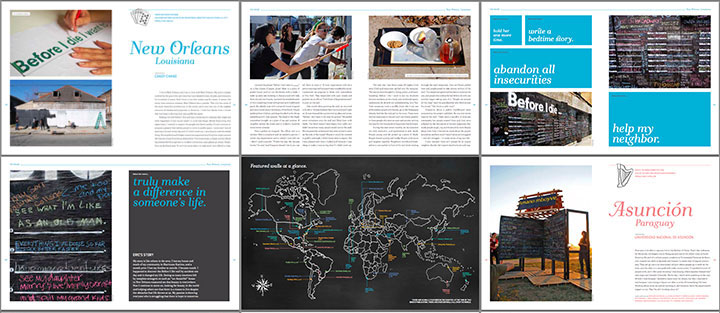 "Before I Die …" 3 simple words chalked on a wall has become a worldwide phenomenon after Candy Chang painted an abandoned wall in her neighbourhood in New Orleans and stenciled the words 'Before I Die' across it.  From one wall to 350 walls across 50 countries in 20 languages, people everywhere, from Spain, Paraguay and South Korea to Brooklyn, New York, have painted "Before I Die" walls, and turned one person's expression of grief into a collective celebration of life and touched, inspired and reached communities all over the world.  

http://candychang.com/before-i-die-the-book/

Here's a link to see more of Candy Chang's inspiring artistic projects from Side Walk Psychiatry to Restroom Map Notepads http://candychang.com/