Be part of Stimulating Conversation
"Dialogue-Experiments" have been an integral part of our work over the years. Each experiment explored the questions of: how to get people talking? How to tackle tough topics? How to make discussions both productive and satisfying?

The insights and approaches are now being poured into a book called Stimulating Conversation.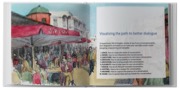 Preview of the forthcoming book, Stimulating Conversation --> PREVIEW
Preview "Stimulating Conversation" and see how to get involved in this forthcoming book.
"We have never before had this level of dialogue. Thank you!"
- Experiment participant at the European Parliament
"Stimulating conversation, has been revealing, productive & fun."
- Experiment participant at Voxbone
"Great conversations - and importantly, the ideas were captured, developed and applied to the future we are building."
- Experiment participant at The Martens Centre
Many thanks to the organisations who allowed themselves to be the testing ground for what has proved to be a very rewarding endeavour:  CSC, Deloitte, European Investment Bank, European Commission, European Parliament, InterPublic Group, Pernod Ricard, TED, Toastmasters, The Martens Centre, Volcano Corporation, and Voxbone.
If you would like to be part of Stimulating Conversation, by offering a story, article or tip, tweet #stimulatingconversation to @jefferlondon, or offer your contribution using the following online form.